TV talent show "America's Got Talent" has a whole legion of fans and they all know there are sometimes crucial moments that define the whole series that are never forgotten.
One such moment was when Kodi Lee appeared on stage to perform.
Kodi Lee is blind and has autism. His mother, Tina, told the show's judges that he loved music "really early on."
The 22-year-old Kodi, assisted by his mother and using a cane as he walked on stage, gave one of the most memorable performances on "America's Got Talent."
It will bring you to TEARS!
It's unlikely viewers will see more inspiring contestants on Season 14 of "America's Got Talent" than singer Kodi Lee.
The 22-year-old is living proof that music can heal.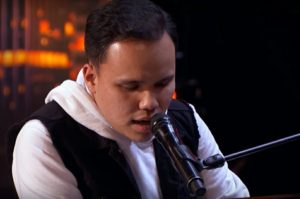 "He listened and his eyes just went huge and he started singing," she said.
"I realized he's an entertainer. Through music and performing, he was able to withstand living in this world because when you're autistic, it's really hard to do what everybody else does.
"It actually saved his life playing music."
On stage, mom Tina helped her son to the piano, then Kodi performed a rendition of "A Song for You" by Donny Hathaway.
Simon Cowell blown away
It didn't take long before the four judges and the audience rose to their feet when Lee finished his stirring performance.
Judge Gabrielle Union hit the Golden Buzzer, meaning Lee will advance to the live shows.
From the moment Kodi opened his mouth the audience immediately fell in love with him — even tough judge Simon Cowell.
"What just happened there was extraordinary," judge Simon Cowell said.
"I'm going to remember this moment for the rest of my life."
At first I was tired of singers getting the golden buzzer, but this changed my mind ❤️❤️This touched my heart, I hope he goes far in this competition ?❤️
I cried in happiness; I cried with joy, I cried with the emotions of the human spirit – please share Kodi's brilliant performance if you also loved this!