Protecting our environment is one of the issues that many people today are worried about. How do we keep this world healthy and alive? What kind of laws can we pass to make sure that our children and our children's children have a bright, green world to live in? What can we do in our everyday lives to do our part in slowing down climate change?
https://www.instagram.com/p/BujxehHBEH_/?utm_source=ig_embed&ig_mid=XOLgywAAAAFM8bdbjutGwJ5hI-Tg
Of course, recycling and planting trees and other plants in our gardens is a great first step. But an even bigger step is preventing large corporations from cutting down the ones that already exist.
The Amazon rainforest has millions of trees—so many that it's often called the 'lungs' of the world. The Amazon alone is responsible for absorbing carbon dioxide, a greenhouse gas, and producing oxygen in significant amounts. Furthermore, it's an entire ecosystem in itself that's home to thousands of species, some of which have yet to be discovered. Cutting down even a small portion of this rainforest can have catastrophic effects on the planet.
In short, it's probably a bad idea to destroy the Amazon rainforest.
Unfortunately, many companies more interested in making money than saving the planet have been tearing down increasing amounts of the Amazon within the past couple of years because of the incredible amount of resources it can provide. Most recently, the Ecuadorian government was planning to drill for oil over an area of seven million acres of rainforest. Their plan was to build 16 oil blocks for oil mining.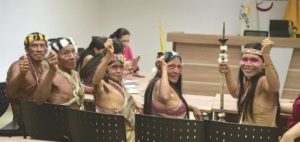 But they were met with backlash, specifically from the Waorani of Pastaza, an Amazon tribe that has lived in the area for hundreds of years. This is their home as they know it.
The tribe appealed to the Provincial Court, which recently decided to indefinitely stall the installation of the oil blocks.
What's more, the decision has also blocked the oil companies and the Ecuadorian government from drilling into an additional half a million acres.
Now, the tribe can rest easy—but their fight isn't over. The tribe expects the government to appeal the decision because they still want the valuable oil beneath the land.

Hopefully, the court will decide yet again in favor of the tribe and protect the beautiful Amazon rainforest!
This is good news for environment-enthusiasts everywhere. This ecosystem is essential to the wellbeing of the planet! How to you do your part to prevent climate change? Please share if you want to spread the good news!