According to a 2015 report from National Alliance for Caregiving and AARP, approximately 34.2 million Americans have provided unpaid care to an adult age 50 or older in the last 12 months. That number will surely continue to grow as the baby boomer generation ages.
While some would love for an aging parent to move in with their family or move into a continuing care community, sometimes it's just not possible.
Enter the MEDCottage.
The MEDCottage or "granny pod" as it has become known as, is a portable apartment that fits in your yard or garage and allows an aging parent to live independently, while still remaining close to their caregiver.
"That wasn't our name," Ken Dupin, MEDCottage's founder told CBS News. "You don't get to choose your nickname."

Each home is equipped with all the safety features you'd find in a nursing home: safety rails, lighted floorboards, a first aid kit, and a defibrillator.
Three cameras are also installed inside the granny pod that allows caregivers to monitor their parents in case they need assistance.

While the idea of having your loved one close by is one that can bring you peace of mind, it will also cost you. According to The Week, a granny pod costs between $85,000 and $125,000.
So far, the granny pods have received mixed reviews and have encountered some difficulty when it comes to placing them, but Virginia did pass a law specifically allowing the placement of MEDCottages.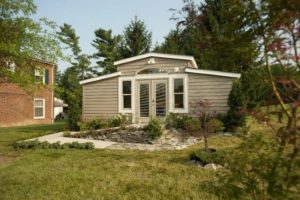 Caring for a loved one can be extremely time consuming, especially if they live far away. You want them to receive the best care, and while you know they might be able to receive it in a nursing home for various reasons that might not be an option.
Would you choose to have a granny pod installed in your yard if it meant your loved one could live close to you, but still maintain their independence?
Share this article about this future way of living if you'd consider renting a granny pod or even living in one!