Have you ever taken your dog to a groomer? If you have then you know you can leave your animals safe in the knowledge they will be pampered and treated with respect.
Unfortunately, this wasn't the case at a dog groomers in Florida.
What one contract worker did to a German Shepherd dog was caught on camera and has gone viral as thousands expressed their absolute shock at this animal's treatment.
Now the sheriff responsible for bringing this cruel animal abuser to justice has a stark warning for anyone else caught mistreating an animal.
Sheriff Wayne Ivey, from Brevard County Sheriff's Office, posted the upsetting and cruel act against this defenseless dog on Facebook and warned:
"As I have said before…if you harm an animal in Brevard County we will take your butt straight to jail!!"
The dog groomer became so angry with the dog that he twisted his tail so hard it broke.
Sheriff Ivey describes the encounter with the groomer, James Cordell Doughty Suthann, in more detail in the Facebook post:
"During a grooming appointment, Suthann became angry when an 8 year old German Shepard Service Dog would not stand still as Suthann was trying to complete the grooming process," Ivey said.
"(He) grabs the dog's tail and completely lifts him off the ground causing the pet's tail to be twisted a full 360 degrees and to be broken to the extent it could not be reattached."
The dog "TT" is a service dog whose owner is a disabled veteran who suffers with Post traumatic stress disorder. His owner is devestated by what has happened to his sweet dog.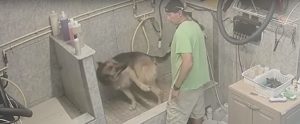 Sheriff Ivey says the dog also had his head held down so he couldn't move, and "was obviously in pain."
He then strikes him on the back of the head with the nozzle of the shower he was using to clean him.
While Sheriff Ivey refused posting the video on Facebook because of its shocking nature, part of it was released by News 6 Orlando later on in the day.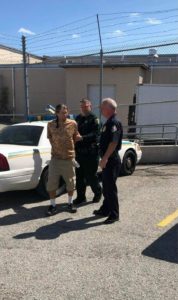 "Because of the significant level of injury, "TT" had to have emergency surgery to amputate her tail and is in the process of recovering," Sheriff Ivey wrote.
The entire act was caught on camera and as soon as the grooming facility found out about the incident, Suthann was instantly fired, and they will be taking greater precautions in the future to make sure something so horrible never happens again
The dog is now trying to recover, but the sad fact is that what was supposed to be a routine trip to the groomers has now negatively impacted the pup for the rest of her life.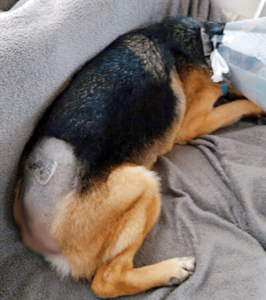 The only saving grace to this story is that the Brevard County Sheriff's Office was able to track down and arrest Suthann very quickly.
This is terrible! So you don't do to a defenseless dog! Share this article if you agree with this!