Ashley Hallford's life was off to a great start. She married her husband, David, while in college – they actually first met in kindergarten. In 2005, she graduated and started a job at an attorney's office, and David started working at the fire department.
"We were really just trying to find our way," she told The Daily Advertiser. "We were establishing our careers, we got a house."
The couple wanted to have a child, and almost immediately Ashley discovered she was pregnant.
Around that time she also discovered a strange bump on her neck, though she initially wrote it off because "it didn't really hurt."
Ashley, 35, eventually made an appointment with an ear, nose, and throat specialist and was prescribed antibiotics.
The mysterious knot shrank.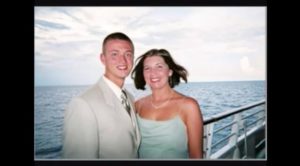 Although the antibiotics appeared to treat the bump, it would always come back. Ashley continued treatment for what her doctor believed was an infection in her salivary gland for weeks, all the way up until she was 32 weeks pregnant.
In November 2007 the knot grew and it became painful.

"What I could see was the size of a golf ball, on the front of my neck, right under my jawbone," she told TODAY.
She requested a biopsy and on November 12, 2007, her fear was confirmed. She had cancer, but her doctor was unsure what kind.
"Pathologists from all over the country studied the lump," Ashley told The Daily Advertiser. "They all agreed that it was a rare and very aggressive, possibly hormonally fueled cancer. But nobody could diagnose it."
Ashley was induced at 33 weeks so she could start treatment right away.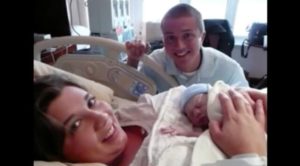 Ashley delivered Harley, a healthy baby boy, on November 17, and four days later she began treatment for the still mysterious cancer.
"Doctors tried to aggressively remove what they could," she said. "It took more than six hours, and I had lots of jaw muscle removed."
Following the surgery, Ashley began to experience headaches and double vision.
"It was a really scary time," she told TODAY.
An MRI showed that the cancer had spread to her brain, both of her lungs, and a portion of her liver.
She was diagnosed with stage 4 cancer and began chemotherapy and radiation in January 2008.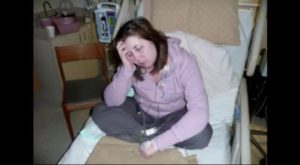 Only a few weeks after learning she had cancer doctors discovered a malignant brain tumor, and it was inoperable. The tumor was located in the cavernous sinus, which her doctors said was "in a place only God's hands could go."
"That's when they asked me to start taking pictures, videos and writing a journal for my son," she said.
After a month of intense treatment, a scan revealed that the tumors were multiplying.
Doctors switched her treatment and hoped for the best.

"I can remember begging God to let me die," she said.
While there were times Ashley wanted to give up, she also put her trust in God. Members of her church began to pray for her, and when the time came for a checkup scan in July 2008, Ashley prayed that she would receive good news.
"I was praying because if there was no change or things were worse, I would be out of options."
After months of disappointing news, finally… hope.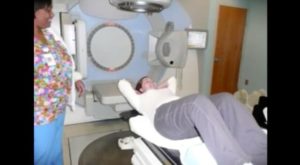 "My oncologist said, 'I'm just going to read what the report says: The radiologist reports that there's no evidence of disease present,'" Ashley said. "She told me that it meant the cancer was in remission."
"I was crying. I had hoped it would be positive news, but it was nothing short of miraculous."
"I was ecstatic… Even now, it does seem to be miraculous. I think many factors, including prayers, played a role in her recovery." Dr. Debra Miller, Ashley's oncologist at the time, told TODAY.
The good news kept coming.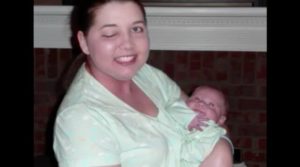 Ashley continued chemotherapy for another six months, but by spring 2009 she completed her cancer treatments. She still deals with some lasting effects – peripheral double vision, headaches, throat surgery every six months, and a sharp pain in her eye – but she's alive.
After being in remission for two years Ashley and David spoke with a fertility doctor about having more children. The intense chemotherapy put Ashley into menopause and doctors suspected her cancer was hormonal.
But when Ashely took a blood test before an esophageal surgery, it indicated she was pregnant. Miraculously, Ashley remained in remission throughout her pregnancy and delivered a healthy baby girl in October 2012.
Another miracle…

In May 2016, Ashley had a blood test for an annual brain MRI and the test revealed she was pregnant for the third time. In January 2017 she delivered a baby boy.
"It doesn't seem real," she said recounting her life over the past decade.
"Doctors gave me a few weeks to live. Don't give up. I didn't lose hope. Don't ever quit fighting."
When Ashley Hallford could have given up she put her faith and trust in God. She knew that the medicine she received could only do so much and the rest was in God's hands.
The combination of modern medicine and prayer helped Ashley survive.
Share this story if you were moved by Ashley's incredible story of recovery and her remarkable story of defying all odds and getting pregnant.