April 29 should have been an exciting day for the Accurso family, but while giving birth to her fourth child, Lauren Accurso, 37, died during childbirth.
"(It was) very sudden, really, just through text message and a phone: Something is happening, and we need to pray," Matt McCloghry, the family's pastor told News 4 JAX. "It was really shortly thereafter a group of us went down to the hospital, and we heard the news."
Lauren left behind her husband, Matthew Accurso and their three daughters. The couple's newborn, Matthew Jr. survived despite complications.
Following Lauren's death, the Accurso family asked for prayers for baby Matthew.
The baby boy suffered "significant brain injury due to a prolonged period without oxygen during his birth." At one point, it appeared that he was improving. A GoFundMe set up for the family stated that Matthew Jr.'s vitals were strong, he was breathing well, and he was able to digest food "like a champ."
Although he showed signs of improvement, the newborn remained in the NICU.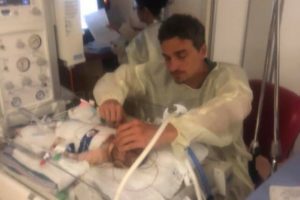 However, two weeks after his birth, Matthew shared through his pastor that he made the difficult decision to take his baby boy off life support.
"Today was one of the hardest days of my life," McCloghry wrote on behalf of Matthew on Facebook. "It will forever be etched in my brain."
He confirmed that Matthew Jr. had "several serious complications related to cognitive function and development" and relied on a breathing machine and feeding tube. Doctors attempted to wean him off the machines, but each time the results were not positive.

Upon hearing this news, My first reaction as Matthews daddy was to sweep my sweet boy up and carry him as far away from machines, medications, life support and hospital smells as I could. I wanted to whisk him away to our family condo on the beach and let the healing kisses of his sisters, grandmas and cousins cleanse his little body of all his infirmities, but as life sometimes does, I was brought back down to the reality that my only son, the sweet boy that my wife so diligently and lovingly carried for 9 months is in a situation that daddy could not fix.
Matthew continued, sharing the heartbreaking decision he was faced with. In the end he chose to let "God to carry him where He will."
Several days later McCloghry shared a final update that Matthew Jr. passed away while being held by his father.

"Thank you so much for all of the love and support that you have showered Matthew and our family with. It is because of your prayers that we have been able to have the sweetest family times around Matthew."
A GoFundMe has been set up to help the family, and it has since raised over $170,000.

The Accurso still needs our prayers. Share this story and pray for their continued healing.