A community in western Pennsylvania is in mourning after an early morning fire tore through a home day care killing five children and injuring one woman.
Four of the children belonged to a firefighter who was fighting another fire that night just a few blocks away.
At 1:12 a.m. on Sunday firefighters responded to a call about a house fire in Erie, Pennsylvania. When crews arrived they found flames shooting out of every window on the first floor.
"The deputy (fire chief on the scene) told me he hasn't seen fire blow out of a building like that in a long time," Erie Bureau of Fire Chief Fire Inspector John Widomski told GoErie.com.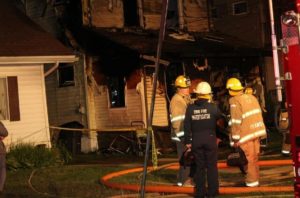 Neighbors heard two teens yell for help as they escaped from the second floor of the day care, which offers overnight care for working parents. The teens reportedly escaped by climbing onto the roof of the first floor. An adult, the owner of the home and day care, Harris Family Daycare, also escaped with injury.
Firefighters pulled several children from the burning home, but sadly none of the children, who ranged in age from eight months to eight years, survived.

Of the five children, four were from the same family. Luther Jones with Lawrence Park Volunteer Fire Department, also in Erie, lost four children in the horrific fire.
"Unthinkable," Chief Joe Crotty of the Lawrence Park Volunteer Fire Department said, according to TODAY. "It's really beyond comprehension."
At the time of the deadly blaze, Luther was responding to a call just a few blocks away.
A fund has been set up to help the family cover funeral costs.

According to reports, investigators are still trying to determine what started the fatal fire, but they believe it started in the first floor of the house. They also discovered the three-story home only had one smoke detector, which was located on the top floor.
Harris Family Daycare passed an inspection in late December 2018, but in early January there were two notes from the state's Department of Human Services Office of Child Development and Early Learning commenting on "ashes and cigarette or cigar butts" and electrical outlets not having the proper coverings.
Responses from the day care indicated these were taken care of.
This is an absolute tragedy. I cannot even begin to imagine what this community and the family who lost four children are going through.
They need our prayers right now. Share this post and pray for them.