It was a seemingly straightforward and fun day for Jodie Thomas and her 4-year-old daughter Sienna who were spending time shoe shopping in 2018. But mom Jodie was about to get the shock of her life.
Jodie, from South Wales in the United Kingdom, enjoyed a day together with her daughter shopping but the next day the 4-year-old fell ill and couldn't stop crying.
The youngster was shaking and had a high fever so Jodie took her to the hospital where doctors gave her news she could never have anticipated.
Her daughter had a severe bacterial infection that had entered her body through her foot. The sepsis had infected her body and was spreading.
"I drove her straight to the hospital, she was shaking and twitching – it was horrible to see my little girl like that," Jodie told The Sun.
"They said it was sepsis and thought they would have to operate."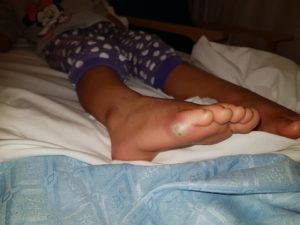 She was told by doctors that they would have to operate on her foot and when Jodie asked how this had happened she was told it was probably from trying on new shoes.
Jodie said they would always wear socks to go shoe shopping but because it was such a hot day Sienna had bare feet and sandals.
Stop the infection spreading
The sepsis had entered Sienna's foot through an open wound and doctors had to drain the infection from her foot and leg and she was put on an antibiotic drip.
"For all parents please put socks on you're [SIC] children whole trying new shoes on," Jodie wrote on her Facebook page.
"I'm guilty for not doing it for mine and myself, but this can be the outcome infection spreading throughout the body. You don't know whos [SIC] feet has been in them beforehand!!"

Sienna spent five days in hospital under observation and doctors worked hard to stop the life-threatening infection spreading.
"This frightening case shows us that sepsis strikes indiscriminately and can affect anyone at any time," Dr. Ron Daniels, chief executive of the U.K. Sepsis Trust, told The Sun.
"Whenever there are signs of infection, it's crucial that members of the public seek medical attention urgently and just ask: 'Could it be sepsis?'"
Thankfully Sienna's infection has cleared up but she has to go back to her doctor for checkups.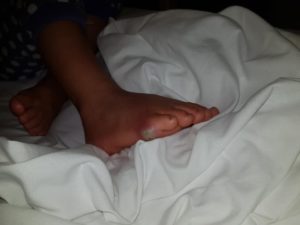 Now Jodie wants to warn others to always have a pair of socks handy when shoe shopping – however hot it is.
Please share to get this important message across.