A short video shared on social media of a homeless man resting in a Dunkin Donuts has caused outrage all over the Internet and resulted in the firing of an employer.
Jeremy Dufresne, who is homeless, often stops by the Dunkin Donuts quick service establishment located in Syracuse in New York.
The video of him, shared on Facebook, shows an employee named Shakeen Robbins throwing a bucket filled with cold water over Dufresne's head and shouting at him.
Robbins can be heard saying he's sick of telling Dufresne not to sleep in the restaurant.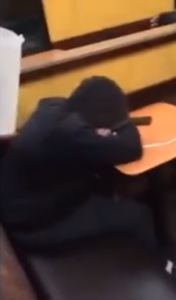 Dufresne had been resting with his head against his hands while his phone was charging when the incident occurred.
After he was doused in water, Robbins ordered Dufresne to leave immediately and threatened to contact police.
A disturbing video of the event was published online by one of the employees, who thought the entire ordeal was hilarious.
Staff can be heard laughing in the background. Since being posted, the video has amassed over 5 and a half million views.
Dunkin Donuts franchise owner Kimberly Wolak eventually announced that all involved staff had been suspended as the case was investigated.
She also said that she was in the process of trying to get in touch with Dufresne to apologize to him.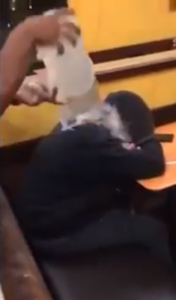 Dufresne often visits that Dunkin Donuts store in order to get out of the cold, typically taking the time to plug his phone in to charge while he is there.
He does this because he wants to call his mom and wish her goodnight every evening.
Though he was treated poorly while there that night, Dufresne has said that he understands the staff member who behaved so cruelly to him was likely having a bad day.
Though naturally not happy with it, Dufresne says he understands that the staff member was likely just taking out his frustrations on him.
Robbins, who has since been fired from his job at Dunkin' Donuts, states that he deeply regrets his actions.
He says that he and Dufresne are usually friendly, and that he used to break company rules by giving him a free donut at the end of his own shift and that they would, occasionally, sit around and chat.
Robbins added that he himself had been homeless five years prior and that he wanted to help Dufresne when he first saw him.

Robbins said that he had worked a difficult late shift that day and had already had to deal with a violently arguing couple, and that he saw Dufresne sleeping despite telling him to wake up earlier.
He said Dufresne had been causing some trouble in the store a for the past five days, too, and that he was on edge and made a decision to throw the water on him – something he now regrets.
Since the video went viral, Dufresne's story has reached many people, including NGO founder Al-Amin Muhammad, who runs We Rise Above the Streets, which is an organization that is dedicated to helping the homeless.
The NGO staged a protest at the restaurant, and a GoFundMe campaign was set up for Dufresne.
As of now, the fundraiser, which had a humble target of $150, has earned $24,592.