I often try to highlight heroes and inspirational stories – that is what I would rather write about.
But sometimes terrible things happen that we cannot ignore.
When five-year-old Karla Herrera was walking home from school with her siblings she had no idea that her life would forever change in a split second.
Someone driving an SUV threw a glass bottle out of their window.
"I saw my sister Karla that's 5 years old on the ground, and I thought she just fell, but then I saw blood coming out of her head. I did scream to the vehicle, telling it to stop, to call 911," her older brother told ABC7.
Five-year-old Karla was looking forward to graduating from kindergarten Monday – instead spent the weekend in intensive care after being hit by a flying glass bottle.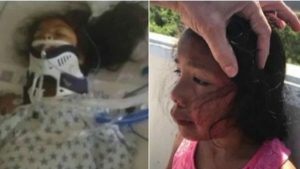 She was rushed to hospital after the horrific incident. A good Samaritan, who happened to be a medical professional, was passing by and rushed over to help.
Doctors said Karla suffered fractures to her skull and collarbone and the little girl was put in intensive care.
The driver didn't stop
The police don't know whether the person who threw the bottle intended to hit Karla or not, but Karla's family says the driver never stopped.
"I feel really bad for her. She's such a young age and she has to suffer through this, and she doesn't really know what's happening fully. For my family, everyone's scared and angry, because whoever did this obviously was heartless. They didn't care," sister Maria Zosoyas said.

Police are still looking for the driver, ABC7 reports.
The Corona police in California are now looking for a large silver or gray SUV, possibly a Chevy Tahoe, with collision damage to the front and six- or eight-spoke wheels, the Corona Police Department wrote on Facebook.
The vehicle was moving south on Lincoln Avenue from Bayfield Drive in Corona at around 2:38 p.m. on Friday when the incident happened.
Karla underwent surgery and was feeling much better Saturday evening, KNBC reported.

Now her family hopes that their little girl can come home from the hospital by her 6th birthday on June 21.
The person that threw the bottle should be arrested!
Prayers going up for this young lady. I don't know what's wrong with people, but I pray for her healing ????❤️❤️