Baby India was found along a road in Forsyth County around 10 p.m. on June 6, in Cumming, Georgia, a city 40 miles northeast of Atlanta.
The abandoned girl was found to be in good health and was taken to a nearby hospital.
Since India was found, authorities have actively tried to identify the girl and her mother – with no result.
Now the authorities are trying something new in hopes of gaining information on India's identity.
Body camera footage from the scene shows the remarkable moment the newborn girl was found alive in plastic bag.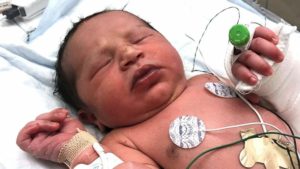 The search is still on for the mother of a newborn baby who was discovered on June 6 in a wooded area with only a plastic bag for protection from the elements.
It's thought only a few hours passed before she was discovered.
"It is without doubt a divine intervention this child was found. Had it not been for those observant folks who are our citizens who called 911, we would be having a much different conversation today," Ron Freeman, Forsyth County Sheriff, said at a news conference after the girl was found, according to Fox News.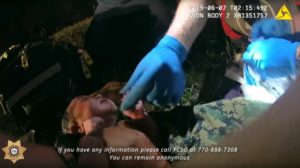 The police also confirmed that the child is either white or Hispanic, and was at full-term when she was born.
On Tuesday, the Forsyth County Sheriff's Office released body camera footage from the evening India was found.
The video captured the gut-wrenching moment the abandoned newborn girl was found alive in the plastic grocery bag.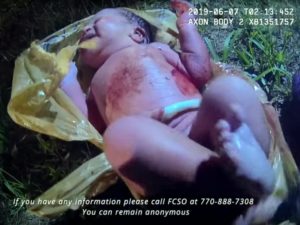 In the body cam video, the crying baby can be seen as responders rush to help her.
The video also shows deputies scoop the girl from the plastic bag and then place her into a blanket.
"She's a sweetheart," one officer says.
According to ABC, baby India is doing well. She is in the care of the Georgia Department of Family and Children Services.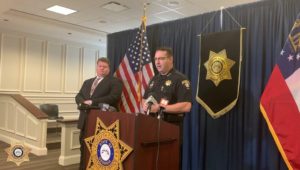 Georgia's Safe Haven Law permits moms to surrender newborns with few obstacles.
"Georgia Safe Haven Law allows a mother up to 30 days after the birth of an infant to drop that infant off at a hospital, a fire station, a police station, a sheriff's station," Ron Freeman said.
"And as long as they turn it over to a person, a live human being, they cannot be charged with abandonment, cruelty to children. It is a way to make sure that a child like this is safely cared for."
Anyone who might know something is urged to contact Forsyth County Sheriff's Office at 770-781-3087. Alternatively, they can contact the anonymous tip line at 770-888-7308.
Please help us get this message out so that we have a better chance of finding India's mom!
Share this article on Facebook to help the effort.