'Today' show host and daughter of President George W. Bush Jenna Bush Hager has revealed the cutest pictures of her third child and first son Henry Harold "Hal" Hager.
The 7lb 5oz boy born on August 2 is the first grandson in the Bush family and all the family came out to celebrate the new addition.
After a few days of rest and adjusting to being a family of five they are ready to share him with the world with the most adorable photos.
Hal has two older sisters to show him the way; six-year-old Mila and 3-year-old Poppy, who apparently gave Jenna the idea for the name Hal.
'Today' co-host Jenna announced the news on the show when she was five months pregnant and gave birth the day she went on maternity leave.
Jenna is the daughter of 43rd U.S. President George Bush and has a twin sister Barbara. Hal is the first grandson in the Bush family.
Speaking to People, Jenna explained why she chose the name Henry: "He is named Henry after many on his father's side including his dear dad and his paternal grandfather.
"Harold comes from my maternal grandfather, Pa, who I loved dearly and was unable to keep a son long enough to name."
Announcing their wonderful news Jenna shared a picture on Instagram with the caption, "Welcome to the world my darling Henry Harold 'Hal' Hager! Hal came into the world Friday, August 2, 2019 at 9:02am and our life has never been sweeter."
When older sisters Mila and Poppy met their new baby brother, they immediately came up with his nickname.
"We weren't exactly sure about the name, but then his big sisters arrived and they called him Hal Pal," Jenna told People. "So we thought, 'This is just perfect!'"
George W. Bush shared a photo of his family on Instagram, with the caption: "@laurawbush and I are thrilled to welcome Henry Harold Hager to our family. We are happy for the proud parents, @jennabhager and Henry. And pleased that Mila and Poppy have a little brother to love."
Jenna's twin sister Barbara was Hal's first visitor and got all the praise for bringing donuts and tacos.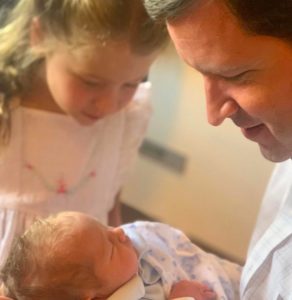 Only days after Henry's birth Jenna was calling in to the 'Today' show to chat with her work family.
She told her cohosts that she was feeling good, adding, "I think when you're held up in a hospital room with a newborn and you see the light in his eyes, you think, 'This is what life's for — to make the world better for our little babes.'
"And even though the news outside these walls isn't so great, seeing the joy in their eyes, that's what we're here to do — make their lives safe. And he's a beautiful, funny little man."
Please share and help send all our best wishes to the happy family of five.