The first time we saw Kelly Clarkson in her element, we knew we were looking at a star.
The incredibly talented singer has proven time and time again that not only can she hit those high notes with her powerful voice, she can fill them with true heartfelt emotion.
She can sing songs that most of us would never even consider trying but there is something special that happens when she sings from the heart.
Perhaps nothing reveals that more poignantly than when the natural born star performed one of her own songs on popular TV talent show, American Idol.
This was a very nostalgic moment for Clarkson, who was returning to the American Idol Stage.
But no one couldn't imagine the number of emotions that would be coming up from within her – during this performance Kelly Clarkson was also pregnant
All the judges were just sitting in front of her, not to judge her but to simply enjoy the performance…
At the time of this performance, Kelly Clarkson's name was already on the lips of thousands across the country.
The 36-year-old had proved to the world just how much emotion she could transmit through a song — and that she could bring an entire audience to tears.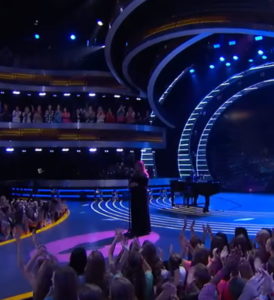 The former American idol winner, now pregnant, returned to the stage and performed her emotional hit song, "Piece by Piece".
She sang it so deep from her heart that she caused tears to start streaming down what seemed to be every audience member's face. There wasn't a dry eye in the room, including the judges.
Her impact, above all, could be seen on jury member Keith Urban's cheeks. He simply could not hold back his tears.
Kelly Clarkson is known to be able to transmit emotion through her voice in a way that not any singer can. She certainly proved it on this day, as she sang her hit song before a tearful crowd.
But the reason this song hits so close to home for Kelly is that it is based on her own personal experience.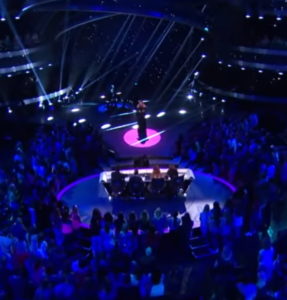 At just about a couple minutes into the song, Kelly has to stop to collect herself.
And this happens not once, but twice. She amazingly gathers the strength to continue to beautifully complete her performance.
Watch her emotional performance for yourself in the video below.
Wow such a wonderful and heartfelt performance by Kelly, she is totally amazing! And Keith is just such a beautiful man inside and out gotta love this man ❤️
I have so much respect for singers that sing directly from their hearts.
Frankly, I cried my eyes out when I watched Kelly Clarkson's performance.
Share this article on Facebook with your family and friends if Kelly's performance moved you to your core, too.