Kirk Douglas is a name we're all familiar with. For those of us (who are a certain age) we grew up watching his movies. His career spans decades and his talents stretch to producer, director and author with ten novels and memoirs to his name.
He's been awarded the Oscar for Lifetime Achievement and Presidential Medal of Freedom and at the ripe old age of 101 years old he also has something else to be thankful for — the love of a good woman.
Kirk Douglas and his wife Anne Buydens have been married for 64 years and have a combined age of 202. They've been through a lot together and to this day are still inseparable.
Just four months after Kirk Douglas's 102nd birthday celebrations on Dec. 9, 2018, the Spartacus icon steered his soul mate and wife of 64 years, Anne Buydens, into the spotlight for her 100th.
The Douglas family made sure to celebrate her 100th birthday and paid tribute to her on social media.
Anne Buydens, was born in 1919 in Hanover, Germany. She was in her early teens when her family emigrated to Belgium, where she became a Belgian citizen.
As a young woman, Anne moved to Paris to work as a film publicist where. At the age of 34, she was noticed for her captivating beauty by her future husband.
Anne Buydens was working as a film publicist and living in Paris when a photographer friend introduced her to Douglas on the set of his film Act of Love.
Already a successful movie star at the time, Kirk Douglas was adored by many women and could almost date anyone he liked.
Kirk, smitten by Anne's aura, quickly proceeded to ask her for a date.

But he was surprised when Buydens rejected his initial request for a date.
Speaking to USA Today, Kirk recalled his wife's unexpected refusal, jokingly calling her "terrible."
"I invited her to dinner and she said, 'Oh thank you very much, but I'm so tired,'" he shared.
"She was the most difficult woman I ever met!"
But Anne remembers thing quite differently.
"He took a look at me and then he said, 'Would you like to have dinner tonight with my friends at some chic restaurant?'" Anne recalled.
"And I said, 'No, thank you, I think I'll go home and make myself some scrambled eggs.'"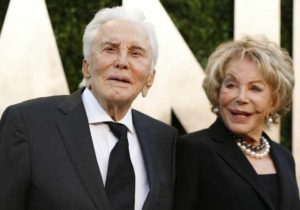 Although Douglas was annoyed by her refusal, he later hired her to be his publicist. They got to know each other on a platonic basis.
"With no romance in the picture, I stopped trying to impress Anne.
"I stopped talking about myself and began to listen to her," he admitted.
Douglas and Buydens eventually got married in May 1954 and had two children together, Peter and Eric;Douglas' other two sons — Michael and Joel — were from his previous marriage to actress Diana Douglas.
Over the decades that followed, Anne became a well-respected philanthropist, producer, and art collector. Anne has also been a member of Vanity Fair's International Best Dressed List since the 1970s.

On Tuesday, April 23, Anne Buydens turned 100 years old and she still looks amazing at 100.
Kirk and Anne published a book together in 2017, titled Kirk and Anne: Letters of Love, Laughter, and a Lifetime in Hollywood.
As they celebrated their happiness and longevity, the 64-years-married couple posed for photographs sitting in adjacent wheelchairs, holding hands.

Happy 100th Birthday Anne What a blessing! Enjoy ❤
Share this article on Facebook to wish her well and to send Anne your congratulations!