We all know that when we're driving through construction work zones we have to slow down and if we didn't there are plenty of signs that let us know.
Often marked police cars will be stationed in the area to make sure we're obeying the speed rules.
But while the police cars are away there are some that do not follow these rules and put the workers' lives in danger.
Now officers in Illinois have taken to dressing up as construction workers in busy work zones to catch those speeding and using their phones — introducing "Operation Hard Hat."
https://twitter.com/SanjMohip/status/1125815051447951361
Police said often drivers see the squad car and slow down but when they "no longer see a squad car, then speed up, pull their phone back out or perform some other reckless act behind the wheel."
A local construction company came up with the idea after concerns for the safety of their workers.
Illinois State Police were happy to oblige and worked together with the Illinois Department of Transportation to start the scheme.
Caught ten speeding drivers in two hours
"Our hope is the plain-clothes Trooper doesn't observe any violations. That would mean drivers were operating their vehicles safely," Captain Jason Dickey told TV6, "Sadly, that will probably not be the case."
Unfortunately it wasn't as in just two hours of starting, state troopers had managed to conduct 10 traffic stops produced 10 speeding contacts, 1 seatbelt violation, and 2 equipment warnings, according to Rare.
According to the Blatti Law, based in Illinois, a first offense speeding ticket in a construction zone can be up to a $375 fine. A second offense could bring that fine up to $1000 and a 9-day drivers license suspension.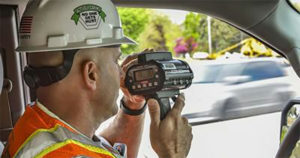 What do you think about Operation Hard Hat? Do you think it should be a nation-wide scheme?
Feel free to share your views below and don't forget to send this story on to your friends and family.