Some people might say loyalty is going out of fashion, but there's still a lot to be said for working with the same employer for a good number of years.
Chris Campbell, a man with Down syndrome, made the headlines when he was praised for his work at McDonald's, a position he held for 27 years.
Sadly, there is now a tragic update coming from his family.
Chris passed away suddenly on Tuesday morning, family members confirm to 11Alive.
Chris Campell was the perfect employee in many ways. He loved his job, he was loyal and he treated all customers with respect.
He said that he enjoyed cleaning tables and making happy meal boxes, according to WTHR.
In fact, he was so appreciated that the Down Syndrome Association of Atlanta decided to honor him in March.
Along with his coworkers at McDonald's, the association celebrated Chris with a cake, a party, and a trophy showing that he was the restaurant's "golden star."
"He's got determination, a lot of fight, and he's going to the top no matter what… and no one's going to stop him!" Chris's mother told reporters at the celebration.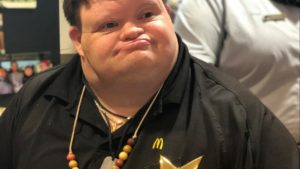 After praising Chris, the Down Syndrome Association of Atlanta also released a powerful statement.
They love their families, value their friends, root for the home team, and cope with the challenges of daily living such as managing a budget, living independently and having a job. These individuals and their families want the same opportunities for education, health, relationships, community involvement and careers as everyone else. With advocacy and the right supports, we can help make that happen!
Chris always wanted others who have disabilities to know they are valued employees. He showed that by being the wonderful man he was.
According to family members, Chris' death was unexpected. They also told 11Alive that they they will announce funeral plans in the coming days.
Sending prayers to his family!
I know that McDonald's is going to miss him, his coworkers, and the customers also!
May he rest in peace, my condolences to the family??????❤️❤️❤️❤️?