I can never understand stories of women who give birth and say they had no idea they were pregnant.
Considering how huge most of us women get with our babies and how we feel during pregnancy, it's hard to imagine not knowing.
But Kelly Yakich didn't even have a baby bump when she woke up one morning with a sudden urge to go to the bathroom.
When she felt a burst of pain she knew something was wrong but never imagined that diagnosis to be labor pains.
Just a few hours later she was holding her fourth baby, a boy, and doctors told her the baby had been growing behind her ribs.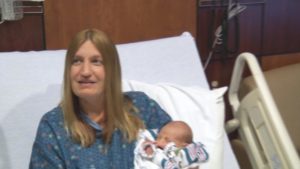 Kelly, 41, was rushed to hospital where doctors performed an ultrasound.
Kelly was shocked, there was no way she could be pregnant, she was still wearing her usual clothes and she'd been getting regular birth control injections.
"I woke up just not feeling good like I had to go to the bathroom and nothing out of the ordinary then all of a sudden had a big burst of pain," said Kelly.
Doctors looked at Kelly's ultrasound and revealed the truth behind her symptoms.
Not only was she pregnant, but the baby had been growing behind her ribs, hiding right up against her back.
Meet baby Yakich!! This little one surprised his parents with an unexpected arrival Tuesday morning. Mom Kelly didn't know she was even pregnant! However, this is not the family's first surprise delivery. @nbc25fox66 pic.twitter.com/jMdGA0Tg3k

— Sarah Jaeger (@SarahJaegerTV) June 27, 2018
Just a few hours later, Kelly and husband John welcomed their fourth baby, a happy and healthy boy named Gunner weighing 6 pounds, 4 ounces.
According to Dr. Mary Jane Minkin, an OB-GYN who spoke to Insider about this amazing story, the fact that every woman's body is different can result in some pretty ususual pregnancies.
In another strange twist, Kelly revealed this wasn't the first time something like this had happened to her. Her second child was born three weeks after she discovered she was pregnant.
Find out more about this remarkable story in the clip below and don't forget to share!