Elizabeth Dominguez never imagined something she ate prior to giving birth would cause the hospital to call Child Protective Services, but after the experience left her feeling like a "terrible mother," she has a warning for others who might find themselves in a similar situation.
When Elizabeth gave birth to her baby daughter, the delivery went smoothly. But soon she received unbelievable news that left her shocked and traumatized.
When the 29-year-old went into labor she went to Niagara Falls Memorial Medical Center where she was asked for a urine sample.
Dominguez complied with the routine test, and when the results came back she was shocked. She tested positive for opiates.
Elizabeth insisted there was a mistake and panicked.
"I called my husband freaking out saying 'how is this possible?' I don't do drugs," she told WKBW.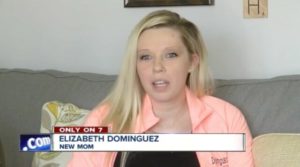 While talking to her husband, Mark, she realized she had eaten a poppyseed bagel earlier. It never occurred to Dominguez that the culprit could be the bagel.
"In some cases eating a large amount of poppyseed such as the kind found in a bagel has been shown to produce low levels of morphine and codeine in the urine," Dr. Michelle Rainka, a Clinical Pharmacist at DENT, said.
It doesn't take much to produce a positive toxicology report.

But regardless of her claims, the hospital staff needed to follow protocol.
Since Dominguez's test results were positive, her baby had to be tested – he tested negative for opiates – and Child Protective Services interviewed the brand new mother as well. The hospital also had to keep her newborn, Carter, overnight to monitor him.
"I felt absolutely horrible," Dominguez said.
"I felt like a terrible mother leaving him. I just want everyone to know that this could happen. It's such a terrible thing and I don't want it to happen to anyone."
The hospital later informed Dominguez that her test was a false positive due to poppy seeds.
Share this story to spread the word about the possible problems you could encounter if you eat anything with poppy seeds before taking a drug test.