When a video of a baby goes viral, the reaction is generally positive, and it certainly doesn't result in any disciplinary actions.
In January 2018, a video of a baby in Saudi Arabia went viral for all the wrong reasons, and the adults involved in the video were punished.
A video, which was shared multiple times on social media, showed a nurse squishing and squeezing a baby's face, while two other nurses could be heard laughing.
The infant was in Taif's children's hospital receiving care for a urinary tract infection when the incident took place.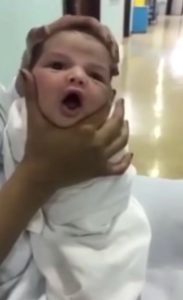 "The Health Affairs investigated the source of the video and was able to identify the nurses who appeared in the video and the hospital where the incident took place. The nurses were immediately suspended by the order of Director of Taif Health Affairs Saleh Al-Muanis," Abdulhadi Al-Rabie, Taif Health Affairs spokesman, said.
According to Arab News, the three nurses were fired from their positions and had their medical licenses revoked hours later.
https://www.youtube.com/watch?v=Pe9m_evAFyE
"When it comes to children being victims, it's a very natural reaction for people to sympathize so strongly with them because babies are voiceless and they cannot speak for themselves; thus, adults feel the need to speak for them," Dr. Mohammed Al-Ghamdi, a teacher of medical ethics at the National Guard Hospital in Jeddah, told Arab News.
The baby's father was stunned when he saw his child being abused by the people who were supposed to care for them, and he called for punishment for all those involved.
Doctors and nurses are supposed to care for their patients, not abuse them. There is no room in the medical profession for people who find it funny to squish a newborn's face.
Pass this article on if you believe the appropriate disciplinary action was taken against these nurses.