Every first a child experiences is such a time of excitement for parents; from their first step to their first word, they're all milestones that are celebrated.
And although it is definitely not a competition, I know that it can be incredibly stressful for parents whose children do not develop at the same rate as other children.
Six-year-old Mason Motz, from Katy, Texas, suffered a brain aneurysm when he was ten days old.
Mason was taken to a speech therapist when he was one, writes The New York Times.
He was given a diagnosis of Sotos syndrome, a rare genetic disorder that affects growth and development and his parents believed this, along with the brain aneurysm, were the reasons why his speech was delayed.
Mason was able to pronounce the beginning of a word and over time his parents Dalan and Meredith came to understand what he was saying.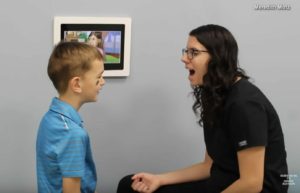 Everything changed after a visit to the dentist
But everything changed in 2017 when Mason was six years old.
Mason was taken for a routine visit to his pediatric dentist Amy Luedemann-Lazar, who made a remarkable discovery, while performing a routine procedure.
Dr. Luedemann-Lazar noticed that the band of tissue under his tongue was attached close to the tip of his tongue, keeping him from moving it freely.
With permission from Mason's parents she performed laser surgery to untie his tongue. The procedure lasted ten seconds.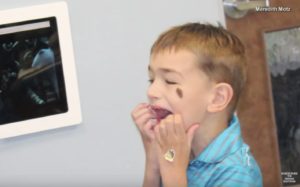 Could talk like a four-year-old
A little while after coming home, his parents heard Mason say, "I'm hungry, I'm thirsty, can we watch a movie?"
His mom Meredith, who had never heard her son talk properly before, could hardly believe her ears when he was suddenly talking at a much higher level than before.
Just a few hours earlier Mason had been talking at the level of a one-year level. After the operation, he was talking at the same level as a four-year-old.
When he is 13, doctors expect him to catch up with his peers.
While doctor Amy Luedemann-Lazar seems enamored with Mason, it's the healthcare professional's passion and advocacy for which his parents are eternally grateful.

"She looks at Mason as a whole person," the thankful mother said.
It's not just other medical professionals who Meredith hopes will be inspired by Mason's story.
She is now urging other parents to trust their gut.
"If you think there's something going on, find a doctor that will respect your opinion," she said.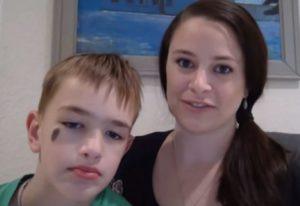 Because Meredith did just that, her son is no longer silent, but rather, he's singing — a beautiful sound to a mother's ears, to be sure.
Most importantly, he can communicate what he feels and thinks.
"He's always had so much to say, and now, he's finally able to form the words," his mom said.
It's an invaluable blessing to be able to share our ideas and participate in a conversation, something Mason was missing out on until a persistent mother and a determined doctor took the time to look a little closer.
Share this article with your friends on Facebook if you're also happy that Mason can talk properly.