Have you ever had a package stolen off your front porch or taken from your door?
That feeling when you discover your item is suddenly missing is usually one of frustration, disappointment, and often leaves you feeling vulnerable.
Usually the stolen packages can be replaced, but sometimes it's not so easy.
James Mills was expecting a very important delivery, his chemotherapy medication, but it never arrived. Or so he thought.
"We received a notification that my chemotherapy medication had been delivered from UPS. I checked the door and didn't see the package," he told KFOR.
Mills, who has brain cancer, said he double checked, and UPS insisted it was delivered. He checked his security camera and sure enough the medicine was delivered, so if Mills didn't bring it inside, where did it go?
"… then about eight minutes later another individual comes up grabs it and takes off."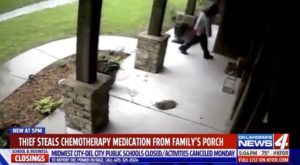 The Oklahoma City resident is currently part of a clinical trial to treat his brain cancer and it is "absolutely essential" that he receives the medication on time.
"I'm in a clinical trial where everything has to be taken at a certain time. A certain dose at a certain time, and I'm scheduled to start that tomorrow," he said.
Since the medicine was stolen on the weekend Mills had to wait until Monday before he could contact his pharmacy for replacement medication.
But even that won't prove to be an easy task.
"It was frustrating, I was pretty angry. It's not easy, I mean, we had trouble getting that medicine to begin with. Having to call the pharmacy, go through the doctor to get approvals and things like that. That in itself is frustrating," Mills' wife, Heather said. "Of all the thing that could have been taken. All of the packages we receive that could have been taken, it had to be his medication."
The family filed a police report, and it is unknown if Mills was able to receive replacement medication on time.
Another #porchpirate caught on camera. The sad thing is this thief didn't take electronics or clothes, he took an Oklahoma City man's chemotherapy medication. He was supposed to start a new round of chemo for his clinical trial tomorrow. @kfor pic.twitter.com/Ik1Gr5Qwg9

— Chase Horn (@ChaseHorn) May 19, 2019
"So, hopefully I can get a replacement before I get too far out of range."
Share this article so this porch pirate can be caught and brought to justice!