Single dad Adam Collier looks forward to quality time with his teenage daughter Devon.
They both share a passion for surfing and like nothing better than hitting the south coast of England and riding the waves.
But finding accommodation, not to mention the cost, meant vacations like this were often hard to organize.
So skilled carpenter Adam decided to create his own vacation home, by converting a 31-year-old double-decker bus on a tight budget.
The results? Simply breathtaking…
His idea started with buying this two-story bus online for £4,500 ($5,842) and then giving himself a budget of £5,500 ($7,140) and six months to turn it into a livable space for himself and his daughter.
The 42-year-old carpenter from Brighton, in the UK, had big plans for the bus, unaware that there was a lot of issues underneath the surface.

Adam set to work removing the seats, which had transported passengers around Birmingham city for the last 31 years.
He did hold onto a couple of the original seats and added more foam so they were comfortable.
Adam not only discovered that there wasn't any insulation on this bus, he also found rotting floors where he could see the ground below.
'No point asking for help'
Adam carried out the whole project on his own.
"I'm a tradesman as well, so I knew how to do everything, and there was no point in asking anyone else to help.
"Also, it was my project. I couldn't expect others to share my level of enthusiasm," he told the UK TV show 'Amazing Spaces'.
He converted the back of the lower floor of the bus into a beautiful dining and living area. The dining table can even be removed when not in use.

Sitting in the dining area in what was once the back of the 31-year-old Birmingham bus you can look out on your surroundings or at the gorgeous wood burning stove, making the weather a non issue for any family vacation.

Adam has thought of everything when it comes to the kitchen area, positioning it perfectly so when he's at work he can also look out onto the stunning English countryside.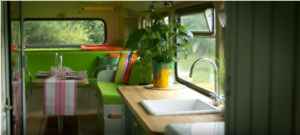 Unfortunately the leaky floors and lack of insulation wasn't the only issue as a broken generator meant Adam had to go over his original budget.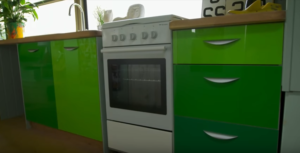 "The most expensive part of it [kitchen] was the worktop. The whole kitchen cost peanuts, really," he said.
Pretty impressive considering the kitchen is bigger than the one he currently has in his own home, he says.
Beautiful resting nook
From the kitchen, you pass a very handy storage area, originally where luggage and bags were stored by bus passengers.
Then up the stairs, decorated with ocean pictures by his daughter, is a beautful resting nook, using the original seating; an area Adam says is his favorite.

Complete with a union jack cushion, Adam says this is his favorite place as he always chose this spot to sit on buses as a kid, just above the driver.
Along a beautifully crafted corridor is his daughter's room, where the talented dad has managed to fit in bunk beds.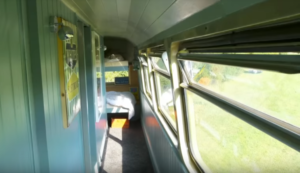 Then off the corridor is Adam's room enclosed with what he calls his "pride and joy" of this project: his sliding bedroom doors that effortlessly glide into place and lie completely flush with the walls.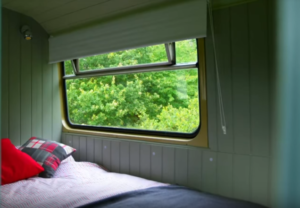 After six long months of hard work, frustration, and excitement the passionate surfer has created the perfect vacation home whenever he and his daughter feel the urge to hit the waves.
Over budget
Unfortunately he went a little over his budget, spending £15,000 ($19,400) instead of £10,000 ($13,000) but it's still a fraction of the price most people pay for a vacation home.
And it's a unique design that we think is just stunning.

To get the full tour, check out the video from Amazing Spaces below!
https://www.youtube.com/watch?v=Z2GNaqmx7XM
Amazing what this man did to this double decker bus ? Such a lovely transformation into a cozy living space. Love the cheerful colors, great Job ❤❤
Please SHARE this with your friends and family if you also think that this dad did an awesome job transforming this old bus!