The unpredictable nature of life means that so often bad things can happen to people who truly don't deserve them.
It's a lesson Vinny Desautels was taught far sooner than he should have been. This despite having a heart of gold.
You might remember Vinny. He made the news when he was younger for letting his hair grow out for two years. The reason? So he could give the excess to cancer patients.
his father, Jason, spoke about the period in which his son had grown his hair, saying, "During that time, he was mistaken for a girl many times. But Vinny took it like a champ and was like, 'Nah, I'm a boy.'"
However, in a cruel twist of fate, Vinny was diagnosed with stage 4 cancer in April 2016 …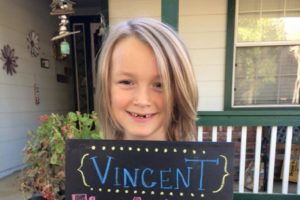 One day, the boy came home complaining of pain in his knee. After a trip to the doctors for examination, it was found that he had a growth on his iliac bone.
To make matters worse, over the next week Vinny developed swelling around his eye with the boy also complaining that the organ felt "heavy."
His parents believed it to be some sort of allergic reaction, but the truth transpired to be far worse.
With doctors suspecting the two might be connected (knee and eye) more tests were undertaken.
They identified another malignant mass on his eye, and the cancer was thought to be of an aggressive nature.
Growths like the one Vinny had don't typically develop out of nowhere; instead, they are usually caused as a result of other tumors in the body.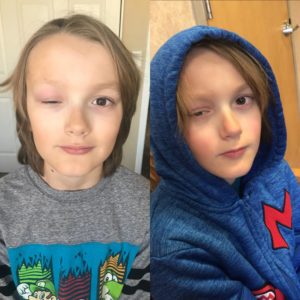 The doctors diagnosed him with stage four cancer, that means that the disease had spread from its place of origin to other areas in the boy's body.
A GoFundMe page was started for Vinny, whose parents faced a struggle when it came to funding his treatment.
Given the many medical check-ups and procedures involved, it was crucial for the family to collect money in order to get the necessary treatment.
Vincent's grandma, Sue, took to Facebook to express her grief at her grandson's misfortune.
"We were heartbroken to get this diagnosis," she wrote. "With that said, I would like to humbly thank everyone for their kind words of encouragement… We are a close family, and we are fighting this together."
Dubbed "VICTORY for VINNY", the page raised nearly $460,000 of the initial $500,000 goal.

In fact, the page did so well that his parents are no longer accepting donations themselves.
Instead, they wanted to pay the kindness forward, and so they have been directing people to donate to other cancer-related GoFundMe pages.
But fast forward to today and things are really different.

"He's been doing great. We have routine scans approaching next month and we will keep you posted. As of now he's over 2 years cancer free!" Vinny's mom wrote in a recent update on Facebook.
Vinny has now graduated to having routine scans every 6 months instead of every 3. What a champion!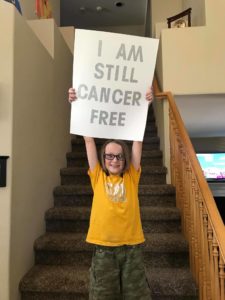 Despite all that has happened, Vinny has thrived and reached some major milestones in his young life.
"He had his first band concert and he rocked playing the flute, finished up the 5th grade (look out middle school, here we come!) and went to Sacramento Pride," his mom said.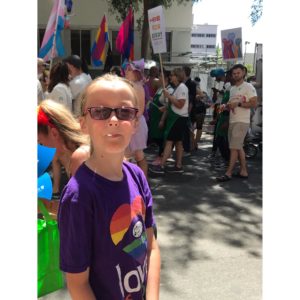 No child should ever have to face cancer. Vinny, we hope you remain cancer-free for the rest of your days!
Share this article to show your support in the fight against this terrible disease.