Two teenage boys were heading home just after midnight when they came across a horrifying car crash.
Hunter Hasenjaeger, 16, and 17-year-old Collin Barry, from Minooka, Illinois, spotted a car completely totalled on the driver's side and knew they had to get out to check the passengers.
These two young men came upon a pregnant mother in the driver's seat, deceased but desperately clinging onto her one-year-old baby in the back.
They realized they had to act fast.
Two friends from Minooka, Illinois, 17-year-old Collin Barry, and 16-year-oldHunter Hasenjaeger, were heading home just after midnight when they witnessed a disturbing scene on the road.
The teens had initially stopped after seeing the front of the Chrysler 300 totalled on the driver's side. As they approached the car all they could hear was the sound of a baby crying at the top of her lungs.
Hunter and Collin then saw 27-year-old Alexis Danley, who was six months pregnant when she died.
Alexis' hand was reaching back to grab the baby seat, where her one-year-old daughter was sitting, completely terrified.
The police hadn't yet arrived, so the teens worked together to get the one-year-old out.
'I felt a connection'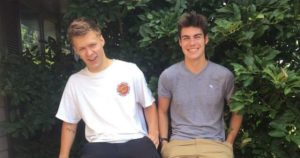 Since he helped rescue the baby, Hunter has visited the victim's family and brought food and a stuffed animal for the girl.
"I didn't even know her name but I felt a connection," he told WGN9. "I think I did what any person should have done. That's just how I was raised."
The man who struck and killed Alexis would later be arrested for driving under the influence.
Let's pray for this little girl and hero heroic rescuers.
She will now grow up without a mother because of the foolish actions of a drunk driver, so please keep her in your prayers.
Watch these brave boys recall their actions on this fateful evening in the video below:
Your baby is ok" that boy is so sweet… Reassuring the mother so she can die knowing her baby is safe ?❤️
It's sad that the mom didn't make it and the los of her unborn child, but at least that little life could be saved and we can hope the mom did hear them and knew her little girl was alright.
Thank goodness there are responsible teenagers in the world like Hunter and Collin who may have saved this child's life. They are such a great example.
Please share to pay tribute to the mom who lost her life and the young men who rescued her child.