Joseph and Mikah Jones were just a few days into their family vacation in Florida with their one-year-old daughter, Cadence, when something frightening happened.
She suddenly became paralyzed.
Her parents rushed her to the hospital where she was diagnosed with Guillain-Barre syndrome, a rare disorder where a patient's immune system attacks their nervous system.
While in Clearwater Beach, the family from Oklahoma City noticed Cadence changed a few days into their trip.
"She went from walking to just wanting to crawl, then she went from crawling to wanting to sit there, and then she went to sit there and fell over," Joseph told WTSP.
Joseph and Mikah brought Cadence to St. Joseph's Children's Hospital in Tampa, where she was diagnosed with a very rare condition.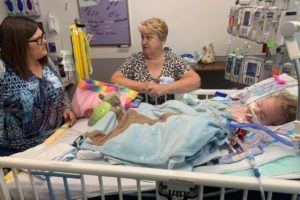 "The hardest part was when we got there and they tested her for her reflexes and stuff. She didn't have any. She wouldn't react to it," Mikah said.
Doctors informed the family Cadence would have to remain in the hospital's ICU for several weeks before she'd be able to make the trip to a hospital near their home.

After arriving at the hospital Cadence's eyes were closed and she couldn't move, now weeks later, her eyes are open and she's beginning to move.
A GoFundMe page that was set up to help the Jones while they take time off work to be by Cadence's side has kept family and friends updated on her status.
"Cadence is still progressing very well. No fever, no infection, lower reliance upon the breathing machine and reduced sedation," said an update on the one-year-old's twentieth day in the hospital.
According to the fundraising page, Cadence's paralysis has moved below her shoulders and each day there is improvement.
"We're hoping for normal. Hoping that she goes back to running around and playful, and hoping that she still loves what she loves. She's small, but fierce," Mikah said.

Let's all pray that Cadence continues to heal so she can go back home.
Share this on Facebook and ask others to pray for this sweet little girl and her family.