Accidents happen all the time—but sometimes accidents can have devastating consequences that are difficult make sense of.
Especially in regards to kids, it's a parent's worst nightmare that something should happen to them.
Accidents involving babies are especially tragic. Now police in North Carolina are investigating a very heartbreaking event: a 10-month-old baby in daycare choked on a pine cone and died.
On Wednesday, an ambulance and police were called out to the A Hug A Day Daycare in Raleigh, North Carolina.
According to authorities, the incident occurred just before 11 a.m, and it involved a little boy.
Soon after the incident, family members identified the 10-month-old as Areon Ellington, according to The New York Post.

One family member told station ABC11 on Facebook:
"This baby had a piece of pine cone in his mouth and it blocked his air passage."
It was the boy's grandmother who dropped Areon Ellington off at the day care Wednesday morning.
"He was my heart"
A few hours later, she got the devastating phone call.
"The day care lady called me and told me that I needed to get to the day care because Areon was choking on something," Helena Harris told Fox6.
"He was my heart," she said. "He was, through our struggles, what was bonding us together."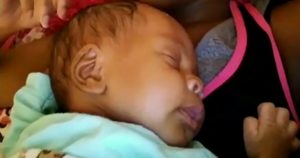 Police ruled the baby's death as an accident, but said the investigation into his death was still open.
People living close to the daycare were shocked to hear the news.
"I see people coming early in the morning, dropping kids off, picking kids up. I see kids play outside," Mikea Nash told CBS.
"I want to say my condolences to the family."
State license records show the daycare has three out of five stars. According to WRAL, the daycare, which is operated out of a home, had some violations like having hazardous items on the property. Others included health assessment filing issues and daily schedules not being maintained.
The Department of Health and Human Services released this statement Thursday afternoon:
It's a tragedy any time a child dies. Our hearts go out to the family. The Division of Child Development and Early Education is aware of the fatality at A Hug A Day Care and is considering next steps. By law, we cannot comment on investigations.
RIP little angel???